Oct 27, 2021
SheTech Semi-Annual Conference
WHAT IS SHETECH?
The SheTech program is the largest industry-led STEM program to activate, engage and inspire high school girls into STEM degrees and successful careers.
SHETECH SEMI-ANNUAL CONFERENCE 2021
SheTech hired Charisma Event Productions because they wanted to do a completely virtual conference for all of their attendees across the United States. We partnered with Avalanche Studios and held the event in their studio. Together, we created a livestream with stellar sound and fantastic lighting.
DURING THE EVENT
We broadcast the livestream on YouTube so all attendees could chat with one another, which created some fun and interactive conversations.
This event had a really unique combination of virtual presenters. We had one main host in the room with us and the rest of the presenters were virtual. We had the in-person host on the left side of the screen and the virtual presenter on the right side of the screen. In the studio, we set it up in a way so the in-person host could see the virtual presenter on a screen right in front of her. The host also had a headpiece that allowed her to hear what the virtual presenter was saying. This way, it felt like a normal conversation because she could only see the virtual guest, but everyone else on the livestream could see both of them at the same time.
We captured the screen of the in-person host so as she shared her content, we could bring that right into the livestream.
THE RESULTS
There were approximately 3,000 girls who watched this 5-hour livestream. It was a super successful broadcast and we look forward to working with SheTech in the future!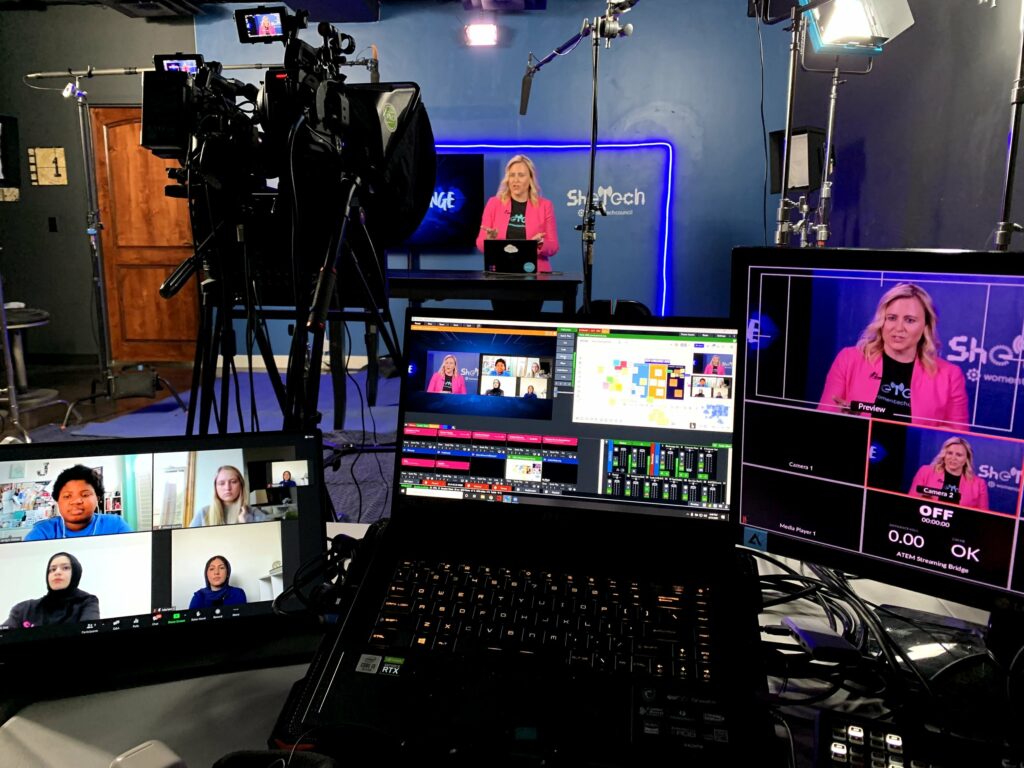 Bring Your Event to Life
Our team is here to help you design and execute a flawless event. Let's get started with some basic information to start the quote process.